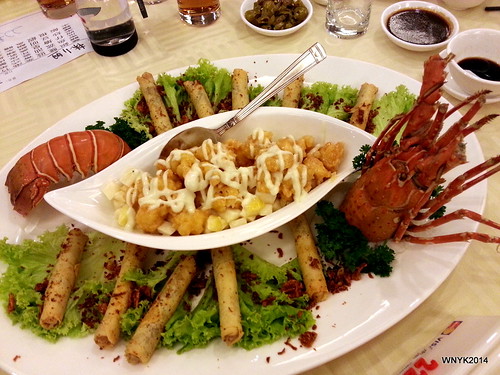 Had an unlikely breakfast of CKT on Saturday and bro had his
nasi lemak
craving fulfilled. Didn't do much in the morning, but bro was busy planning for his upcoming vacation in Italy (
Florence and Cinque Terre
). At around 1:00 pm, SK and I sent mum out to Kuchai Lama to attend a free grooming course. To keep my brother entertained, I made sure that the video player was stocked with enough movies to last the afternoon. Took the chance to have lunch with KH at
Casa del Cocco
, Taman Danau Desa. Thought perhaps my Mei could join for lunch, but she was on her way back to Batu Pahat for some important personal matters. Actually we ordered a little too much-- grilled pork shoulder (
not recommended
), slow roasted pork (
recommended
) and a Margherita pizza (
recommended
). Such a lazy afternoon. Great to be just being in each other's company and sipping coffee (
while our hands get a little busy LOL
). Got home at about 3:30 pm after picking up mum's birthday cake from RT Bakery. My brother was so famished that he thankfully finished the two slices of pizza I brought back in a doggy bag. Wonder why he didn't cook instant noodles to eat (
I'm such an evil brother for ditching him at home
).
In the evening, we were scheduled to celebrate mum's birthday at
Restoran Chuai Heng
. Took us ages to decide on a venue. Saved by SK when she saw their promotional set being advertised in The Sun. A course dinner for ten pax, but we only had seven. Managed to get two extra stomachs, i.e. Lifebook and KH! In order for KH to come, he had to FFK JJ's birthday dinner (
gomenasai JJ-san
). Dinner was scheduled for 7:00 pm, but mum only finished her course around that time. Yikes. Imagine how rushed we were. We were the last to arrive. Told the staff to rearrange the menu and bring the fried rice forward. The kids were starving. For starters, we had a lobster salad, followed by a thick sharks fin soup which KH declined. Hehe. More for me! Then there was suckling pig, soya sauce prawns, steamed golden pomfret and gluten with mushrooms. Ended with birthday cake and melon-sago dessert. The whole dinner, KH and I could hold hands beneath the table and we would take food or pour wine for each other. His first formal family gathering. Hope to make him a permanent fixture in future events. Bliss!