On our last day in Chiang Mai, we had some time to kill before we headed to the airport. Walked to the nearby Warorot Market to buy some local snacks. On our way there we stopped for breakfast a neighbourhood noodle stall at a back alley. Ordering was easy because the lady spoke a smattering of Mandarin. She cooked up a hearty bowl of pork noodles in clear soup but once again we were given the tourist price. She was quick to add that she served up a large bowl. Haha. The Warorot Market sold a myriad of stuff, from cloth, clothes, gold, toys, food stuff to personal are items. Most of the stalls on the ground floor catered to tourists. Nearly all the stalls sold the same things-- pig skin snacks, sauces and spices, dried fruit, bamboo caterpillars, sweets, etc.
Chiang Mai greeted us with a
Pad Thai
dinner so we decided to bid her farewell with
Pad Thai
lunch. The shop we chose was on Chang Moi Road and in my opinion better than the one on our first day as it had ample
wok qi
. Took the time to visit the closest temple to our room, Wat Bhappuram. The differentiating feature is its tiered
viharn
with Burmese traits. It was also the only temple we saw that had people selling caged birds for release.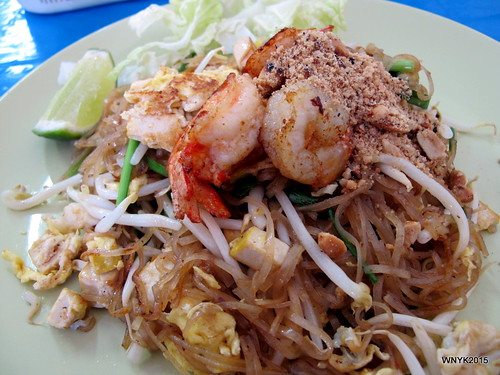 When it was time to go to the airport, we dragged our bags down and hailed a
somtheaw
. The VAT return process was painless and quick. Sat down at
YES Coffee
for a latte and sandwich. Nothing much to do at all in the airport. At the gate, was entertained by a woman who stood smack-dab in front of the TV and downed a whole mango in 2 minutes-- The Devourer of Mangoes. With that I end my Chiang Mai adventure. Thank you for reading.