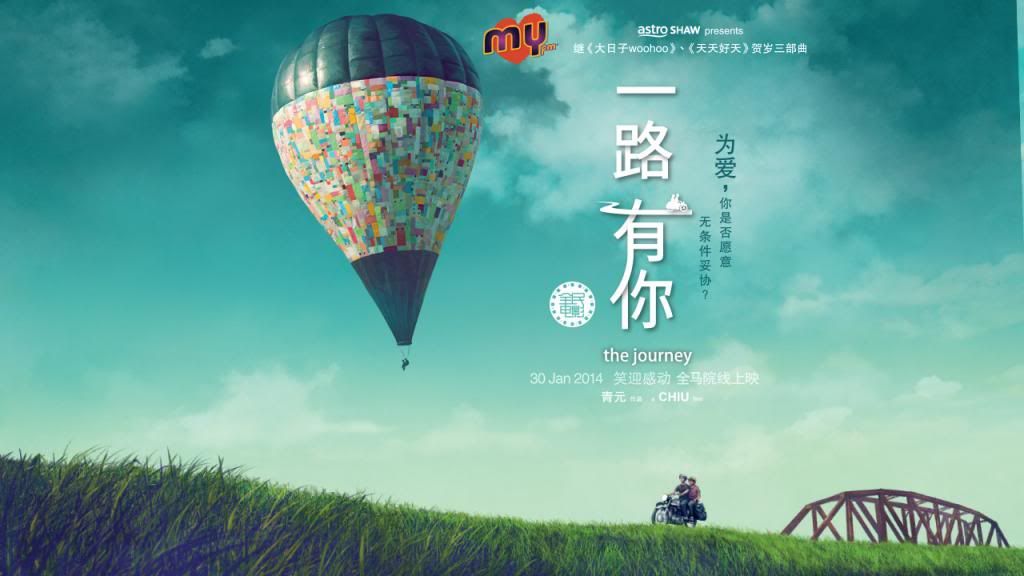 Two local films were released at the same time during CNY with very different results. One was "Ah Beng: Mission Impossible" that grossed about MYR4mil without much contribution to society (
they still haven't grown tired of the character Ah Beng, even Sacha Baron Cohen knows to spew out different characters
). The other was "The Journey" and is the #1 top-grossing Malaysian film of all time, grossing MYR15mil at the time of writing (
thanks to Apollo who watched it thrice
). The story is pretty simple, a woman comes home to Cameron Highlands after spending years and years in the United Kingdom to get her father's blessing for her marriage to an
ang moh
. To make the story interesting, the father figure is obstinate and the couple bow to his request for a proper Chinese wedding banquet. That propels the story into a cross-country journey where the dad goes on a road trip with his future son-in-law to deliver wedding invitations. This set the scene for culture shocks, reunions, flashbacks, issues of filial piety, familial ties, loss and expectations. Definitely an engaging watch and I'm glad I brought my mother to watch it at Paradigm Mall after church on Sunday. Lots of messages about letting the next generation do it their way and to not grow old bitter holding on stubborn demands. I can draw parallels to the father accepting the
ang moh
, to my mum accepting KH. LOL. I didn't shed much tears except for the part where the neighbour got a stroke after his son's wedding. Joanna Yew who played the daughter really reminded me of Liu YiFei from "White Vengeance" and "The Four". Porcelain face perpetually stuck in a sulk. I think Benji, the son-in-law did the most acting in the film. Some weird points in the plot, like how an elderly farmer in Cameron Highlands understood his daughters outbursts in English and how the
ang moh
could understand 50% of the Chinese that his father-in-law spoke to him at times. And about the solar hot air balloon! Aie. The trademark of the film. Anyway, go catch it for the storyline and the beautiful cinematography. Surprisingly, Mum asked me to go
yumcha
after watching "The Journey". So rare. Must be not full enough from the
Pasta Zanmai
lunch. Decided on tea at
Plan B
. Lovely apple crumble tart. Just MYR11 with a scoop of vanilla ice cream. Thumbs up. Wolfed it down with P. Ramlee films playing on their flat screen TVs. A surreal tea time experience.
Just half an hour after getting home, mum and I
lan kai
again, this time to have dinner at
Pu Tien
, Sunway Pyramid. The usual favourites were chosen, but tried a couple of new things. Impressed that thinly sliced and chilled raw bitter gourd would taste good as an appetiser.
Jalan-jalan
a bit after dinner and bought myself a cup of coffee from
Coffea Coffee
. I don't normally drink more than a cup a day, but I had to try it after hearing good reviews. Firstly, the staff wasn't very friendly. Secondly, the design of the cafe was quite nice. The air-conditioning vents were cleverly disguised as natural wood panels. Thirdly, the coffee was quite strong and fragrant. Lastly, their coffee jacket is a thin layer of foam, not exactly environmentally-friendly. LOL. Shall try their drip coffee next time. Ethiopiao Sidamo anyone?