It was the last weekend before The Tribe and mum gets back from Taiwan. Woke up a bit later than usual cause I had closed the curtains the night before. SK had suggested having breakfast at Kota Kemuning, but I really wasn't in the mood to travel so far for a plate of WTM. Happy with the pork ball noodles at
Restoran Yoong Sheng
nearby. Have taken a liking to dry noodles these days (
not the healthiest choice but I'm not getting any six packs any time soon anyway LOL
), but not everyone gets it right. At around 11:00 am, KH came over for a skank session. But I had to work for it by giving him a massage first! :P. We surely have gotten to know each other's bodies much better. Things run smoother and we know can better anticipate the next step. Even had a synchronized finish that afternoon for which I'm quite proud of. Freshened up and rushed out to pick SK for lunch before watching Hands Percussion's The Next Restage. Our initial plan was to eat at Fukuharu, but seems that they have gone out of business. Luckily KH had another place in mind--
Hanare
@ The Intermak. Our first time there. Quite
atas
. Choice cuts at a more premium price. They do have cheaper meals, but the portion ends up to look a bit pitiful. I got the mix and match for MYR48-- chose
kakiage
and
sashimi moriawase
. Three types of yummy raw fish, but just one slice per type!
Kesian kan
? Don't worry, I did manage to fill my tummy as the
kakiage
was like a huge-assed
cucur udang
! Business wasn't bad for a Saturday afternoon. When we left, the whole restaurant greeted us and one waiter actually sprinted out to the entrance to catch us.
Potong gaji
if never say "Thank you, please come again" to the leaving customer?! Will definitely return to try their Sunday buffet.
We were pulling it a bit too close as we left Hanare at 2:30 pm and Jalan Tun Razak was experiencing heavy traffic towards Istana Budaya. Crap. By the time we reached the venue and dumped the car at the roadside, it was fifteen minutes to show time. As we were making our way up to Panggung Seri, SK's friend was rushing down and she immediately passed us the tickets. What surprised me the most was the sheer number of school students who were milling outside the entrance.
Rombongan ke?
Our seats were actually surrounded by a sea of primary school students. Horrible seats really. Uncomfortable, low, minimal leg space. The question marks on my head regarding the kids were cleared during the introduction. Turns out that for a minimum donation of MYR5,000, forty students get to watch the show and gain entry into four other museums around town. Its part of an initiative to expose children to the arts. The show started off with with Sangpuy Katatepan Mavaliyw, a Taiwanese aboriginal singer playing a double nose flute and awing the audience with his powerful vocals. Later, the rest of the performers streamed onto the stage from the back accompanied by the haunting sounds of didgeridoos. The first half of the show was dominated by Hands Percussions fantastic drumming and choreography. In addition to drums, their baggy pants were put to good use for percussive sounds. And I loved the music which was a dynamic
rojak
of
bonang
,
rebab
and
tabla
. However, that didn't stop the teacher sitting beside me to catch forty winks. Thinks its not the first batch of students that she brought. During intermission, KH and I quickly rushed to the restroom. Not for a frantic quickie mind you, but to avoid the tsunami of school boys that came after.
I was told that the second half of the show would be quite a drastic change in concept. It was a drastic change alright. For the worse. Everything went more modern. Futuristic. Electronic. Metallic sounds. Tron meets Gamelan. The only thing that I found interesting was the LED-laced costumes. Drums were also mounted on circular cages, give the performer a 360 degree range of drumming. That was followed by a collaboration with Man Kidal, for a taste of Malay Rocker, left-handed electric guitar. Those wailing sounds nearly drowned out everything else. And KH was plugging his ears! More weird graphics projections after that. Eyes and hand popping out all over the place, punctuated by a lone shirtless performer (
the only real skin in the whole show!
). The fella was wielding a staff whacking giant sheets of aluminium near the ceiling. Weird. Left the hall with some mixed feelings about the performance. Too bad the momentum ended after intermission for me. Publika was our next destination for dinner. Gratitude promised to join us as he wanted to give SK a belated birthday treat. While waiting for him to arrive, we
lepak
-ed at B.I.G. and had a couple of drinks from a vinegar bar. Yes, vinegar.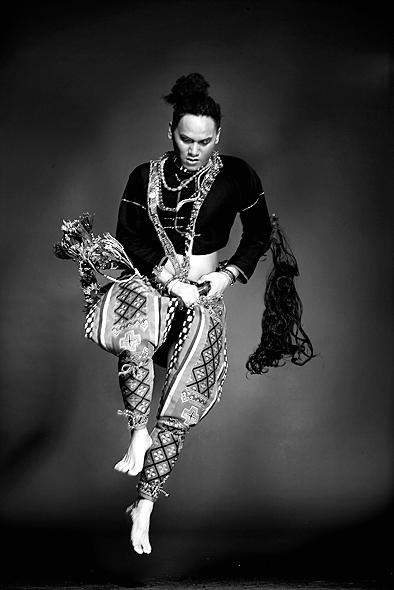 Swiped from Taipei Times
Swiped from MSN Malaysia News
Having too many restaurants to choose from, we resorted to Foursquare and HungryGoWhere to 'show us the way'. Wanted to try Elegantology, but the price tag of roughly MYR100 per pax was too steep. Passing by
Magenta Dining
, our eyes immediately caught sight of their MYR99+ for two dinner set. Huhuhu. More my price range. The meal came with bread rolls, baked escargot, a main of your choice (
I had the tuna steak
) and a drink. Since it was Gratitude's first time there, we gave him a tour of the place and to let him
cuci mata
with the high net worth
leng zais
there. Some speed dating thing was going on at The Stage and I went over to take a closer look at was 'on the shelf'. More guys than girls. The girls seem to be of good quality but the guys not so much. Think gays have something like that too at some local rainbow cafe. After dinner drinks were at
Coffee Stain by Joseph
. The yin energy was very strong there that night. Some eye candy, but he left soon after. An old couple were running around tending to the customers that night which Gratitude found them to be quite out of place. Perhaps that was Joseph and his wife. Saw something interesting in the menu-- coffee ice with silk milk. Basically one pours warm milk into a glass of coffee ice cubes. Gimmick-y, but I was surprised that it was actually quite good.